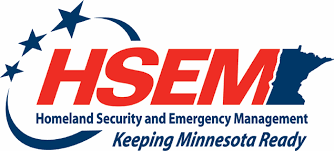 Pennington County Emergency Management
Current Projects
All Hazard Mitigation Plan Development, Review and Update to EOP (Emergency Operation Plan), Resource Guides, TEPS (Training and Excercise Plan), Employee and Citizen Certification Programs.
Information
Emergency Management is a system that includes the mission areas of Prevention; Preparedness; Mitigation; Response and Recovery. Emergency Managers are charged with the responsibility of coordinating all of these mission areas to establish and maintain effective, effecient programs within their communities. Each of these mission areas contain a variety of core functions and tasks that must be done in order to maintain the necessary capabilities of an effective preparedness system. Most of these areas are not as visible as the response mission, but they are essential to a successful response and recovery.
In Minnesota, all counties and cities are required to have an emergency management organization that is in accordance with the state emergency management plan and program. As part of this organization, each city and county is required to have a director, who is appointed by the mayor or the county board. (See Minnesota Statutes, section 12.25). If no appointment has been made, the mayor or the chair of the county assumes that role. All 87 counties in Minnesota have, as a minimum a Director appointed to perform the duties associated with emergency management. Most of Minnesota's larger cities also have an appointed emergency management director; however, in some smaller communities, the mayor assumes these duties. (Minnesota Emergency Management Director's Handbook).
Pennington County has instituted a new rapid emergency notification service called CodeRED®. The new system will distribute emergency messages via telephone to targeted areas or the entire county at a rate off 1,000 calls per minute. CodeRED® employs a one-of-a-kind Internet mapping capability for geographic targeting of calls, coupled with a high speed telephone calling system capable of delivering customized pre-recorded emergency messages directly to homes and businesses, live individuals and answering machines.
By registering, you'll be added to the emergency list.
This service can be used in case of fires, chemical spills, evacuations, lock downs, downded power lines, lost individuals, natural disasters, abductions, water system problems, bomb threats, or other emergencies. Calls can be geographically targeted for localizing messaging. If widespread, the entire community could be called within 20 to 30 minutes.
The system also reports who did not get a call so that they may be contacted by other means.
Pennington County residents are welcome and encouraged to enter their contact information for home, business, and mobile phones so they may be contacted by the system in the event of an emergency. It is important for city residents and business customers to register, especially if they are unlisted numbers, cell phones or VOIP. Those who do not register their address and phone number may not be notified with CodeRED in the case of an emergency. Registration is confidential, free, and easy.
Erik Beitel, Director
Pennington County LEC
Emergency Management
102 1st St W
Thief River Falls, MN 56701
Phone: 218-683-7087
Fax: 218-683-7006
Email